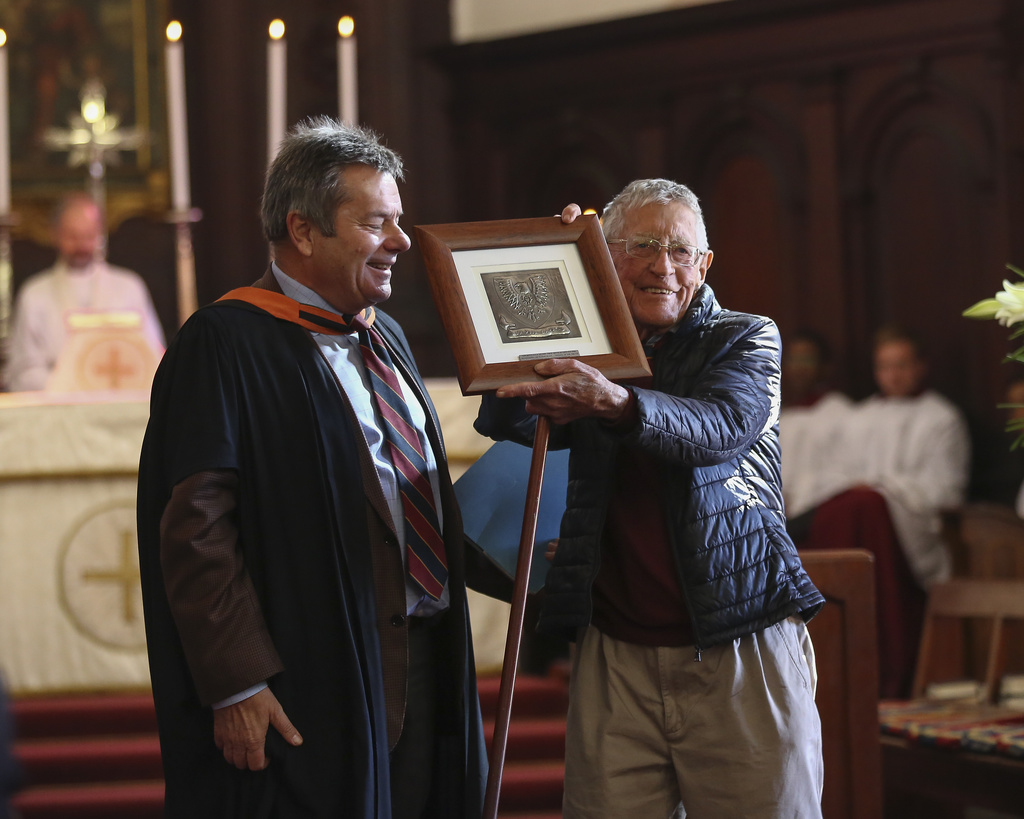 Professor Revil Mason (OJ, Thomson, 1946), renowned archaeologist, is the recipient of this year's Golden Eagle Award. Professor Mason's most significant legacy is the unearthing of the history of Johannesburg, long before the discovery of gold, which he made easily accessible to those outside academia.
Professor Mason was born in 1929. He grew up in Saxonwold and started at the Prep in 1936. He matriculated in 1946 and went on to study accountancy at Wits. In his final year, he won many prizes including the Dean's award. However, it wasn't until he attended a lecture by Professor Raymond Dart that he became fascinated by archaeology. He then decided to study archaeology at the University of Cape Town where he excelled once again.
Professor Mason tirelessly sought to convince officials of the need to recognise the African past. He recorded all the stone age and iron age sites in South Africa. Professor Mason excavated numerous hunter-gatherer and early herder sites in and around Gauteng, including the Melville Koppies, Linksfield Ridge, Bruma, Kruger Cave, Sterkfontein and the Cave of Hearths.
He also excavated Makapansgat discovering three new layers of Stone Age, a new find for South African archaeology. Professor Mason spent two years living the veld where he unearthed a site in Broedestroom which dated back to 300 AD.
Prof Revil Mason was a pioneer in debunking the myth of the empty land, a version of history which propped up the apartheid regime and was taught in history classes across the country. His ground breaking archaeological excavations, particularly on the Witwatersrand showed evidence of well-connected and thriving black communities, who were involved in trade and significant agricultural endeavours long before the discovery of gold brought thousands of prospectors to the Witwatersrand
Besides being a renowned archaeologist, Professor Mason was also an avid adventurer and mountaineer. He climbed Ruwenzori and other African mountains. He summitted the Brandberg in Namibia many times where he saw the famous white lady painting which he has written about in many of his works. At the age of 69, he went on a solo biking trip across the western Himalayas, along the Karakoram from Pakistan to China. He also biked across the Rockies just after his retirement and climbed the ice mountains in Russia and the Pamirs in Central Asia.
Professor Mason has been described as a humble and down to earth man. Professor Philip Tobias described him as a "brilliant, creative, unpredictable and an indefatigable field archaeologist." As a Johannian, it is safe to say that Professor Mason has lived a life of great significance and has excelled and prospered in body, mind and character. A worthy recipient of the Golden Eagle Award.