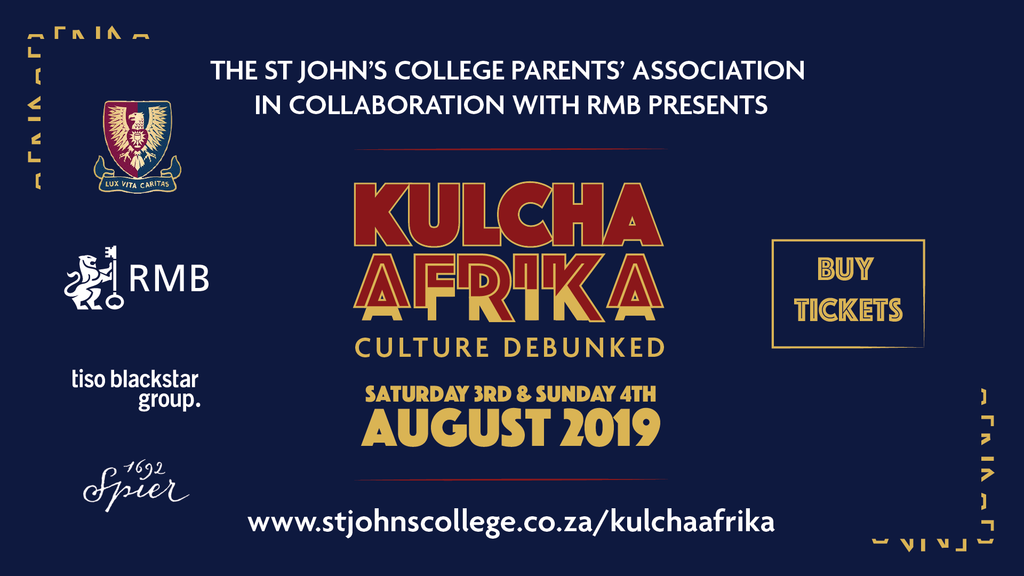 The St John's College Parents' Association, in collaboration with RMB, present Kulcha Afrika. Kulcha Afrika is a visual arts Exhibition, BUNKA KULCHA will be open on Saturday 4 and Sunday 5 August from 10h00 to 20h00 in the Rene England Auditorium. The event is designed to be accessible to both kids and adults with many interesting workshops, tours and discussions with artists. These include a guided tour of the many sculptures on loan to the school by iconic South African artist Edoardo Villa, conducted by expert Mary-Jane Darrol, and workshops by artist Amber-Jade Geldenhuys and art collective Alphabet Zoo.
The event will have a focus on showcasing up and coming artists and educating our community on the important role arts play in society at large.
A selection of works from Old Johannian's Dominic Albinski and Alisa Ray will be displayed in the Old Johannian Club.
Like all PA events, Kulcha Afrika is a fundraiser to support our boys and the greater St John's Community through contributions to improvements to the school facilities and charitable endeavors such as the Realema Teacher Intern Programme and the St John's College and Prep Academies.
Ticket holders will also have the opportunity to buy the art on show with a portion of the sales going to the school. For guidance on what to buy, you can attend a fascinating talk by artist Nandipha Mntambo titled "Art As An Investment" who uses her own extensive art collection to illustrate her talk.
There will be a variety of food & drinks available for purchase at the event including a free wine tasting sponsored by Spier Wines, the wine will be available to buy with a portion of sales going to the PA.
For more information on the artists and to buy tickets please visit the website www.stjohnscollege.co.za/kulchaafrika