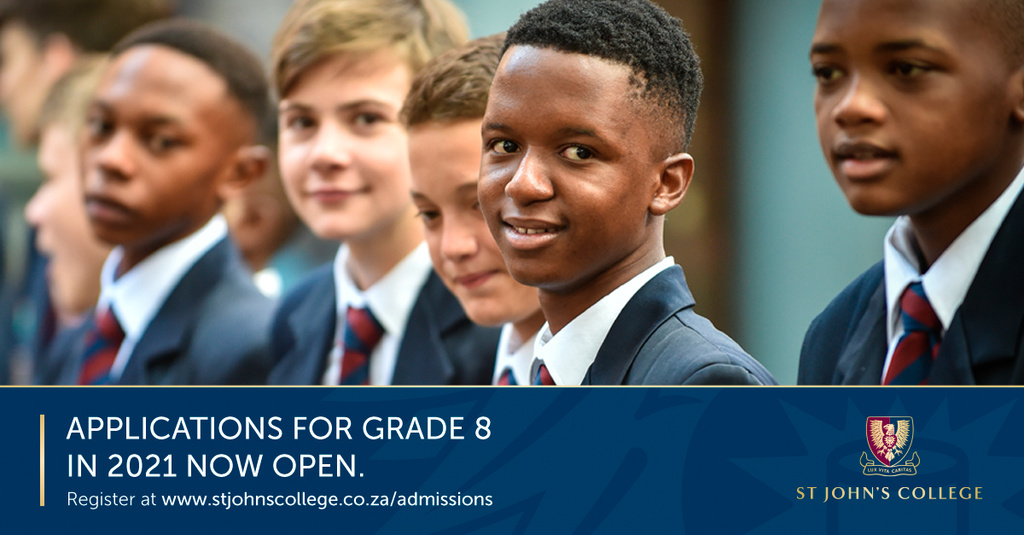 School structure:
Remove (Grade 8) Age – year child turns 14 - Main entry point into the College
Lower IV (Grade 9) Age – year child turns 15
Upper IV (Grade 10) Age – year child turns 16
Lower V (Grade 11) Age – year child turns 17
Upper V (Grade 12) Age – year child turns 18
The St John's College Remove Open Day will be hosted on the 28 September 2019 from 09h00 to 13h00

We encourage you to apply to the College no later than your son's Grade 6 year.
To apply for entrance to St John's College, please complete the online application below. An application fee of R500 is required to access the application form. The application process to St John's College is exclusively electronic.
All Remove (Grade 8) applicants are invited to attend our Open Day on 28 September 2019. Alternatively, visits and tours of the College take place on selected Tuesdays at 14h15. Please email [email protected] to schedule your tour.
Entrance exams
Entrance exams take place in February 2020.
All applicants will be invited to write the St John's College entrance examinations in Maths and English at the beginning of your child's Grade 7 year. Bookings for the entrance exam will open in January and the school will send out a communication about how to book your son's test date.
When your son arrives for the entrance exam in February, please submit the following documents:
Grade 6 year-end report
A passport photograph
A short CV highlighting any achievements in sports, academic, cultural and/or community service
Other supporting documents or testimonials
Please do not submit any original documentation, medals or certificates. These will not be accepted.
Based on their entrance exam results, boys will be invited for an interview. Consideration for entry into the College will take into account the entrance exam results, the interview and any other supporting documentation.
*This does not apply to the boys who have come through St John's Preparatory School.