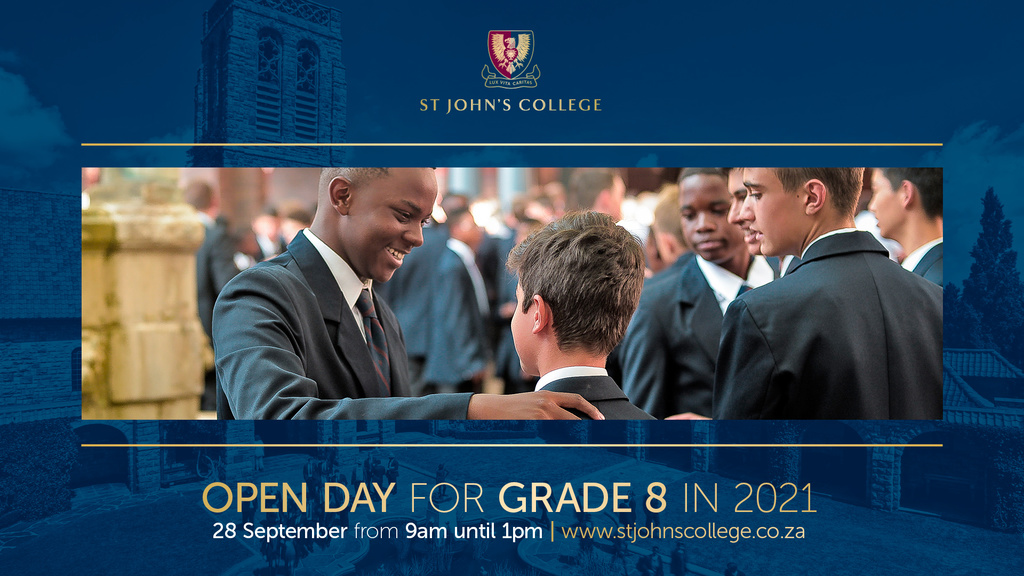 We invite all Grade 6 students and their parents to the St John's College Open Day for Grade 8 in 2021 on Saturday 28 September from 9am until 1pm.
Prospective parents and boys will be given the opportunity to tour our school and boarding facilities, meet our teachers and students, and gain a unique insight into our values and ethos.
The tour will include:
* Boarding and dining facilities
* School facilities including the Chapel, classrooms, science laboratories and computer rooms
* Sports fields including the Gnodde Indoor Cricket Centre, the Barrow Squash Centre, Astro, Swimming and Water Polo pools and the high-performance gymnasium
* Interactive demonstrations of academic subjects
* Music, drama and debating performances
* Various other experiences of life at St John's College
We look forward to welcoming you to our school.
School structure:
Remove (Grade 8) the year your child turns 14. This is the main entry point into the College.
Lower IV (Grade 9) the year your child turns 15
Upper IV (Grade 10) the year your child turns 16
Lower V (Grade 11) the year your child turns 17
Upper V (Grade 12) the year your child turns 18
We encourage you to apply to the College no later than your son's Grade 6 year.

To apply for entrance to St John's College, please complete the online application below. An application fee of R500 is required to access the application form. The application process to St John's College is exclusively electronic.
All Remove (Grade 8) applicants are invited to attend our Open Day on 28 September 2019. Alternatively, visits and tours of the College take place on selected Tuesdays at 14h15. Please email [email protected] to schedule your tour.
Entrance exams
Entrance exams take place in February 2020.
All applicants will be invited to write the St John's College entrance examinations in Maths and English at the beginning of your child's Grade 7 year. Bookings for the entrance exam will open in January and the school will send out a communication about how to book your son's test date.
When your son arrives for the entrance exam in February, please submit the following documents:
Grade 6 year-end report
A passport photograph
A short CV highlighting any achievements in sports, academic, cultural and/or community service
Other supporting documents or testimonials
Please do not submit any original documentation, medals or certificates. These will not be accepted.
Based on their entrance exam results, boys will be invited for an interview. Consideration for entry into the College will take into account the entrance exam results, the interview and any other supporting documentation.
*This does not apply to the boys who have come through St John's Preparatory School.